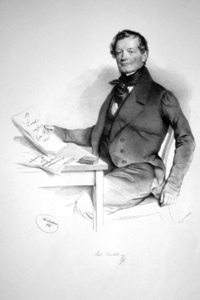 Anton Diabelli (1781–1858) was an Austrian music publisher, editor and composer. By the age of 19 Diabelli had already composed several important compositions including six masses. In 1803 Diabelli moved to Vienna and began teaching piano and guitar and found work as a proofreader for a music publisher. During this period he learned the music publishing business while continuing to compose. In 1817 he started a music publishing business and in 1818 he formed a partnership with Pietro Cappi to create the music publishing firm of Cappi & Diabelli.
The firm soon established a reputation in more serious music circles by championing the works of Franz Schubert. Diabelli's firm continued to publish Schubert's work until 1823 when an argument between Cappi and Schubert terminated their business. The following year Diabelli and Cappi parted ways, Diabelli launching a new publishing house, Diabelli & Co., in 1824. Following Schubert's early death in 1828 Diabelli purchased a large portion of the composer's massive musical estate from Schubert's brother Ferdinand. As Schubert had hundreds of unpublished works, Diabelli's firm was able to publish "new" Schubert works for more than 30 years after the composer's death.
Diabelli's publishing house expanded throughout his life, before he retired in 1851, leaving it under the control of Carl Anton Spina. When Diabelli died in 1858 Spina changed the firm's name to "C.A. Spina Vormals Diabelli" and published much music by Johann Strauss II and Josef Strauss.
Piano Duet
Click on a VSE number to see examples of pages
| | | | | |
| --- | --- | --- | --- | --- |
| VSE 22 | A. Diabelli | 28 Melodische Übungsstücke für das Pianoforte zu vier Händen im Umfang von 5 Noten bei stillstehender Hand um allen Fingern beider Hände gleiche Kraft und Unabhängigkeit zu verschaffen (1831 and 1837) | €27.50 | |
| VSE 23 | A. Diabelli | Prüfungs-Stücke zur Ermunterung der fleissigen Jugend, für das Pianoforte zu vier Händen im Umfange von sechs Noten bei stillstehender Hand, um allen Fingern beider Hände gleiche Kraft und Unabhängigkeit zu verschaffen. Als Fortsetzung der 28 melodischen Uebungsstücke [opus 149] im Umfange von fünf Noten (1854) | €35.00 | |
| | | | | |