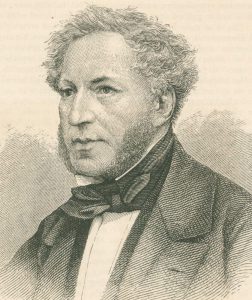 Ignaz Moscheles was born in Prague in 1794 and settled in 1808 in Vienna where his teachers were Albrechtsberger and Salieri. In 1814 he was commissioned to arrange the piano score of Beethoven's only opera Fidelio. Therefor he visited the famous composer regularly and came to know him as a kind and generous friend. In 1815 his Alexander Variations op.32 brought sudden fame and popularity and he embarked the following year on the life of a touring virtuoso. In 1824 he met and taught Felix Mendelssohn in Berlin, whence arose a lifelong friendship. In 1825 he settled in London for 21 years (where he acted as a pianist, composer, conductor and teacher) but he continued to tour in Biritain and on the Continent.
In 1846 he accepted Mendelsohn's invitation to be Director of Piano and Piano-Composition at the recently founded Conservatory.
Between 1815 and 1830 he was considered by many the surpreme virtuoso of his day. He combined technical brillance and depth of expression with true compositional and artistic mastery. His style is marked by rhythmic and melodic vivacity and charm.
Click on a VSE number to see examples of pages
Piano Solo
VSE 06
I. Moscheles
1794 – 1870
Six Divertissements Opus 28 (1814),
Rondo Brillant Opus 94a (1835),
Hommage caractéristique à la mémoire de madame Malibran de Bériot en forme de fantaisie Opus 94b (1836)
€24.50
Listen
Piano Duet
VSE 10
VSE 11
I. Moscheles
Tägliche Studien über die harmonisierten Skalen zur Übung in den verschiedensten Rhytmen opus 107 (ca.1842)
59 Characterstücke in two volumes.
VSE 10 Part one, no. 1-30
VSE 11 Part two, no, 31-59
€29.50
€29.50
VSE 17
Ignaz Moscheles & Felix Mendelssohn-Bartholdy
Variations brillantes sur la Marche Bohémienne de C.M. von Weber, opus 87b (1833),
Symphonisch-heroischer Marsch über Deutsche Volkslieder, opus 130 (1861)
€38.50