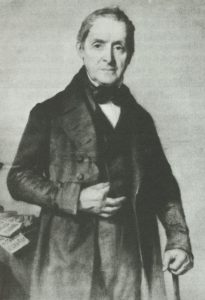 Today John Baptist Cramer (1771-1858) is only famous for his 84 excellent piano etudes opus 30 and 40. He was born in Mannheim but in 1774 his parents moved to England where he spent the rest of his life. In 1788 he undertook his first foreign tour and he began publishing his first compositions during these years. During a second tour (1799) he renewed his relationship with Haydn and he met Beethoven with which he began a warm friendship and who called him (according to Ries) the finest pianist of his day.
After 1800 Cramer's public career was centered almost entirely on England. For his admiring audiences he was named "Glorious John'. In 1835 he retired officially from public life.
As a composer he was strikingly conservative and liked to view himself as a latter-day Mozartian. Although in the early period of his composing life Mozart was never far away, I strongly feel that Cramer has a very personal style. After 1810 his sonatas contain more prominent Romantic characteristics.